Enterprise Digital Signage Solutions
Maximize sales and improve customer experience with best-in-class, turnkey digital signage solutions.
Trusted By Industry Leaders
Digital Signage That Drives Sales
Best-In-Class Support
We are invested in your success. Our team of technicians offers rapid response to support requests for hardware, software and content related inquiries.
A Scalable Signage Solution
We are prepared to grow alongside your business. CARBON, our proprietary content management system, makes managing the signage at one location as easy as managing 500 locations.
More Than Just Signage
Some providers sell signage boards. We sell solutions. We provide end-to-end coverage for all of your signage needs, from hardware to content management.
Unmatched Performance
Ensure stable, reliable performance, and smooth playback with top-notch player technology. The result? Less stress, more sales.
Signage Management, Simplified
Meet The Carbon Content Management Platform
Carbon is used by some of the world's most well-known companies to power their global signage networks.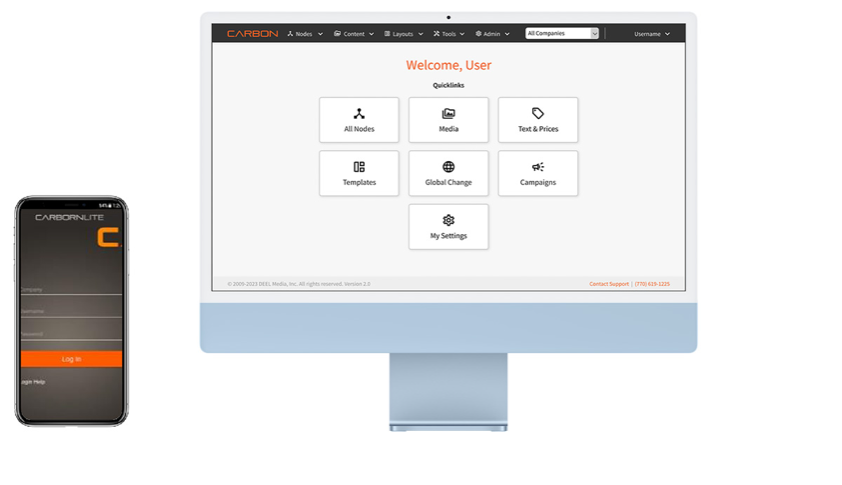 Reliability
Trusted by top-flight brands across industries, Carbon is a dependable solution that provides stable, reliable performance 24 hours a day, seven days a week.
Flexibility
From comprehensive data integration, to player syncing and device monitoring, the Carbon platform allows us to provide virtually any solution you can think of, and some you haven't even considered.
Scale With Ease
Designed to manage tens of thousands of locations, Carbon makes it easy to manage your signage content, regardless of your business's size.
Our Clients Are Our Biggest Advocates
"DEEL met my vision. They care about their product the way we care about ours."
- Theater Executive
"They say what they're going to do and they do it."
- QSR Lead Store Architect
"They made my vision a reality and to see your vision come to life is amazing."
- Theme Park Executive
Meet with our team to walk through our technology and how it can help revolutionize your business.