Theater Digital
Signage Solutions
Benefits of Digital Menu Boards
Maintain Brand Consistency

Motivate consumers to buy bundles and higher margin offerings

Eliminate inefficient processes

Modernize the appearance of your theaters
Dynamic pricing and calories

Integration with Point-of-Sales, Box Office systems and other data

Motion content display

Concession menu takeover scheduling

Promotional campaign start and end date scheduling
Movie Theater Signage That Drive Results
Movie theaters across the country are powered by DEEL's intuitive signage. Take a look at some of our recent installation projects to see our signage at work!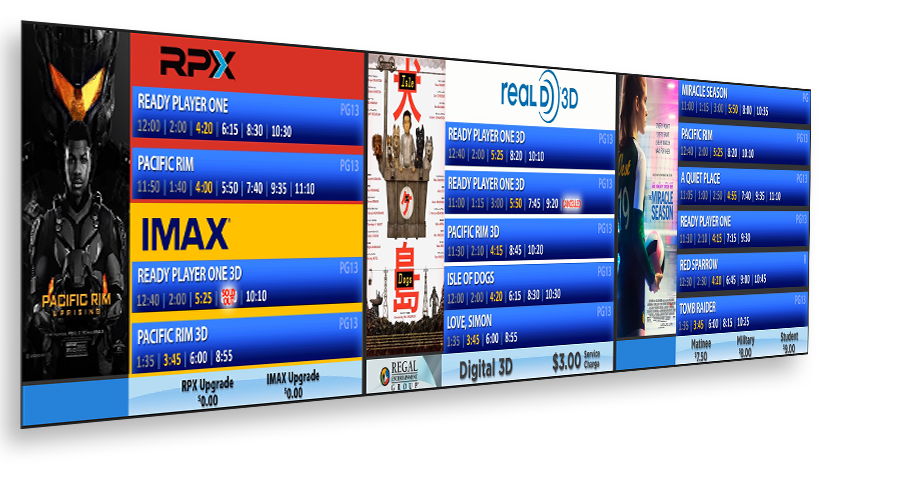 Digital Box Office Displays
The DEEL Digital Box Office Display dynamically generates your box office presentation based on data received from you ticketing system and digital title art
Digital Concession Board Solutions
Our Carbon™ platform is designed to efficiently manage and display a unique menu mix and pricing by theater, day of the week, and day part

The DEEL Content studio has a library of original theater and concession product photography that can be leveraged to enhance your concession boards without breaking the bank.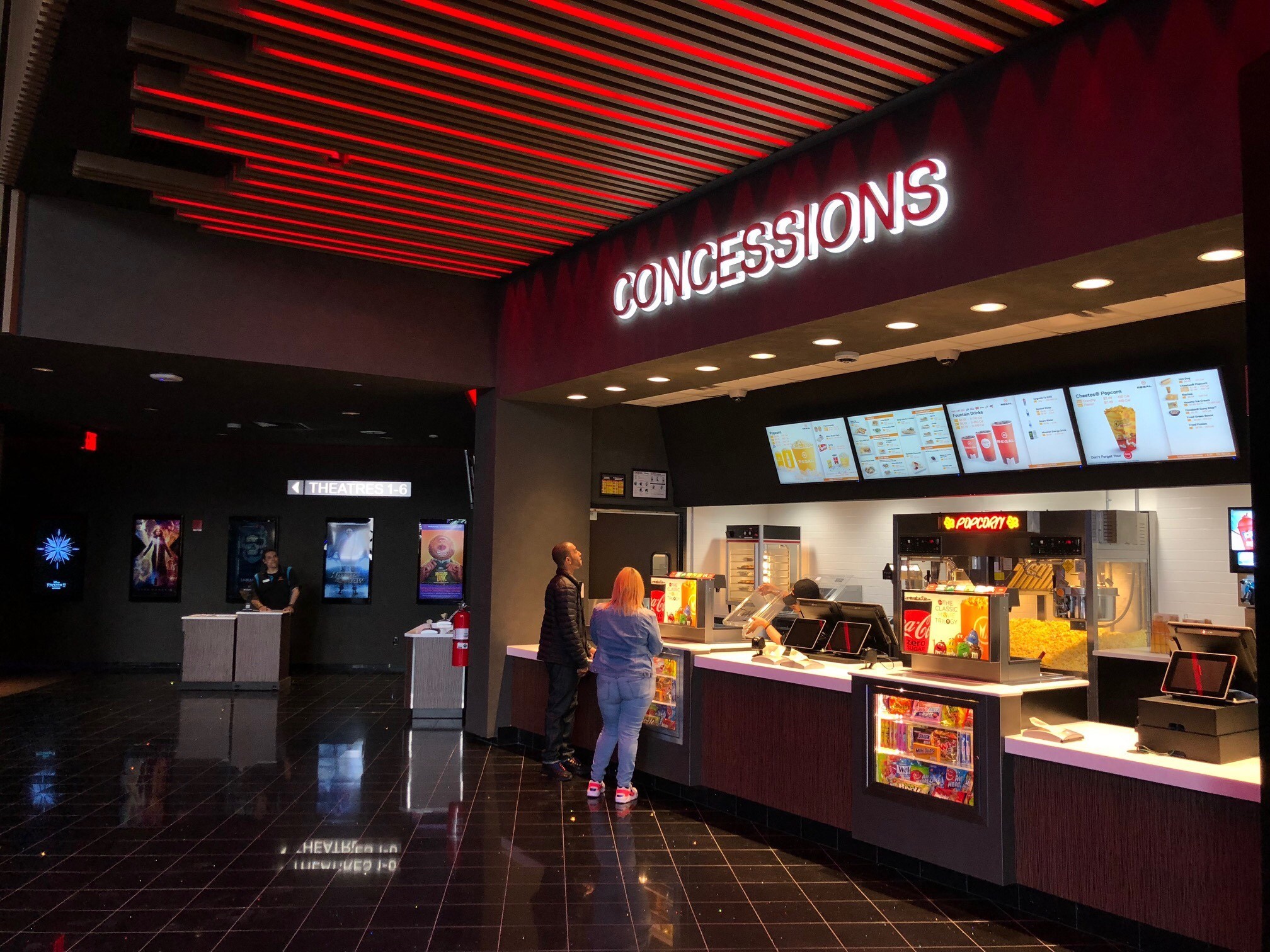 Digital Movie Posters
Build interest in "now showing or "coming soon" features using animated digital movie poster displays.
DEEL Media creates digital movie posters for most feature films when subscribe to our digital move poster program.
Video Walls
DEEL Media implements digital video walls of any size and configuration to provide maximum visual impact
Digital Auditorium Signs
Enhance way finding for guest by providing bright digital auditorium signs. Movie titles, times , auditorium status and title art are dynamically displayed based on output from your ticketing system
Lobby Takeover
DEEL Media's Carbon platform allows all players in the theater to be synced to perform a
"takeover" event
Frequently Asked Questions
Digital signage is a game-changer for movie theaters, providing powerful tools to catch customer attention and boost sales. With vibrant displays that catch the eye, it grabs the attention of moviegoers and leaves a lasting impression, elevating brand recognition. This visually appealing approach makes movie offerings more enticing, increasing the likelihood of customers choosing those films. Not only that, but digital signage also puts the spotlight on snack counter menus, highlighting mouthwatering items that might have been overlooked otherwise, resulting in more orders. Movie theaters can also leverage digital signage to showcase dynamic content like promotional offers and time-limited deals, creating a sense of urgency that motivates customers to make quick purchases. It's a win-win for everyone!
To implement digital signage in your movie theater, follow these steps:
Define your goals:

Clearly identify your objectives, whether it's increasing ticket sales, improving the customer experience, or both. Having well-defined goals will guide your content creation and form the foundation of your digital signage strategy.

Choose your hardware:

Select the necessary hardware components, including display screens,

media players or computers, and any required accessories such as mounts or stands. Consider the specific requirements of your theater's environment and the desired display setup.
Select appropriate software:

Choose software that allows you to create and manage your digital signage content effectively. Consider factors such as ease of use, integrations, and scalability. The software you choose will be instrumental in the success of your digital signage operation.

Create captivating content: Create visually captivating and engaging content that grabs the attention of moviegoers and effectively promotes your films and offerings. With the help of the DEEL Content Studio, you can create a mix of eye-catching images, engaging videos, and interactive elements to create an immersive experience. Having compelling content is essential for getting the most out of your digital signage.
Install strategically:

Once you have your hardware, software, and content ready, strategically place your digital signage in high-visibility areas of your theater. Ensure it is prominently displayed to attract the attention of moviegoers and enhance their overall experience.

Test and monitor: Be sure to thoroughly test your digital signage to make sure it's working properly. Keep a close eye on its performance to see how it's impacting your goals. Don't hesitate to make adjustments to improve the results. And if you have a top-notch content management system (CMS) like our Carbon CMS, it'll make content changes across multiple locations a breeze and help you test things more efficiently.
The DEEL Difference
At DEEL Media, we are not just digital signage experts who understand how to drive more sales and improve customer experience for your business. We are trusted partners who are truly invested in your success. Our goal is to make your business' signage the best that it can be, whether that's through hardware, our Carbon CMS, or studio-level content production services. We are with you every step of the way in your digital signage journey.