Retail Digital Signage
DEEL Media works with some of the best-known retail brands to enhance the guest experience in their stores. From fashion retail displays to interactive way-finding, we create in-store experiences that convert shoppers into buyers.
Bring Visual Merchandising to Life
The DEEL Retail Offering
Unique display orientations, arrangement and sizes to create impact and attract attention

Transform static vendor-provided assets into compelling motion content

Enhanced product counters and end caps with associated digital displays

Customer self-service for product information, directions, event schedules and more

Turn browsers into buyers with self-order kiosks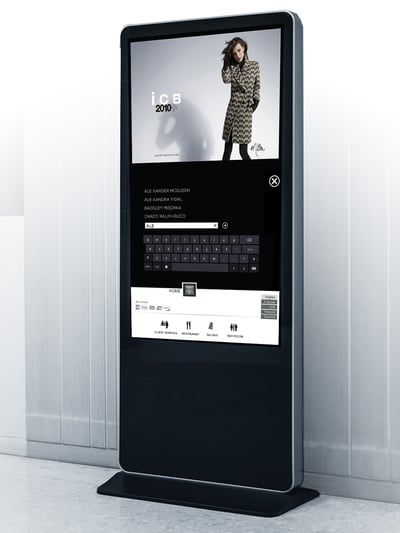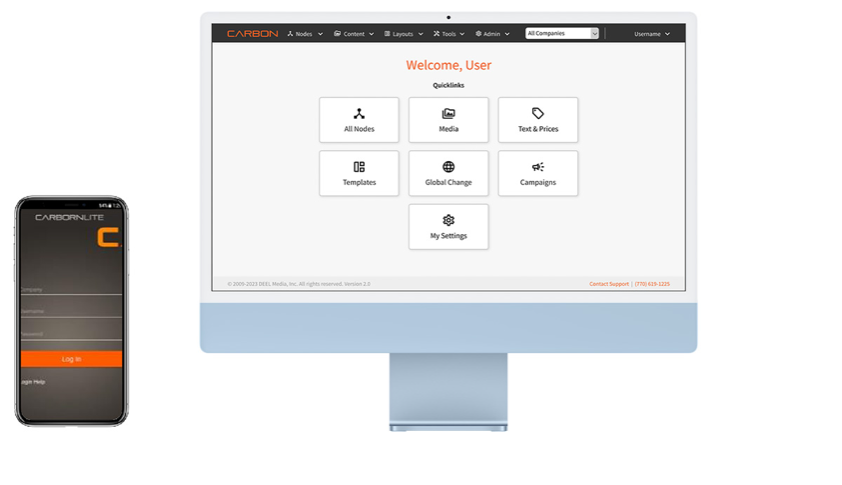 The Power is in Your Hands
In-person or Web based training sessions and YouTube tutorial videos

Manage content and pricing from anywhere using our Web interface

Schedule multiple content day parts to meet the changing customer visitation patterns of your locations

Understand the performance of promotional messaging when paired with sales data

Change item pricing from your mobile device using the Carbon Mobile app

Create roles and permissions for system users from Admin to Store Manager and everything in-between, to allow for the distribution of system responsibilities to the appropriate information owners.
Frequently Asked Questions
Digital signage is a game-changer for retailers, providing powerful tools to catch customer attention and boost sales. With vibrant displays that catch the eye, it grabs the attention of your store's visitors and leaves a lasting impression, elevating brand recognition, and providing a better in-store experience. It's a great way to make your brand stand out. Not only that, but digital signage also enables you to put the spotlight on specific products and specials you'd like to promote, ensuring all of your customers know about your best deals and offers.
To implement digital signage in your retail store you should follow this roadmap.
Define your goals: Start by clearly identifying your objectives, and what you want to accomplish with your digital signage. Do you want to increase sales? How about improving customer experience? Having well-defined goals before you start your signage journey will guide your content creation and form the foundation of your retail store's digital signage strategy.
Choose the right hardware: Next up is selecting your hardware components, including display screens, media players or computers, and any required accessories such as mounts or stands. Consider the specific requirements of your store's environment and the desired display setup. Think about where you'll want to set up your displays. Where are the most high-traffic areas in your store? Do you have compelling signage to draw customers into your store? These are some things to consider when selecting your hardware, as certain hardware is better suited for certain places in your store.
Select appropriate software: Select a software that allows you to create and manage your digital signage content effectively. Choosing your software partner is potentially the most important decision you'll make when implementing retail digital signage. Consider factors such as ease of use, integrations, and scalability. Without great software, your retail digital signage will likely fall short of driving the results you are looking for.
Create captivating content: What use is digital signage without great content to display? Now that you have the foundation for your retail signage strategy, it is time to create visually captivating content that grabs the attention of store visitors and effectively promotes your products and unique offerings. If you don't know where to start, our content studio can help you create a mix of eye-catching images, engaging videos, and interactive elements to ensure you create an immersive experience and get the most out of your digital signage initiative.
Install strategically: We alluded to this earlier, but think long and hard about where you want your signage to go. Ensure it is prominently displayed to attract the attention of your store visitors. We'd recommend putting some signage right at the entrance to your store, and by checkout as well, just to name a few locations.
Test and monitor: Part of operating digital signage is being a scientist. Test different types of displays, and keep track of what works, and what doesn't. If something isn't working, don't hesitate to make adjustments to improve the results. If you're having a hard time creating engaging content, perhaps our content studio can help!
Dynamic Content: Part of the beauty of digital signage is that it enables real-time updates to your messaging or promotions, allowing you to keep content fresh, engaging, and adaptable to changing circumstances. With DEEL Digital Signage, your retail store can effortlessly incorporate motion content display for added visual impact, ensuring your customers are engaged and delighted. Your retail store needs a nimble advertising strategy, and digital signage is a great way to get there.




Cost-Effectiveness: Digital signage proves more cost-effective in the long run, as you can reuse content and eliminate the expenses associated with traditional print signage. Integration with Point-of-Sales and other data sources allows for seamless updates and synchronization, ensuring your store is completely connected, and monitoring the impact of your signage. This will allow you to make more strategic and financially prudent signage decisions.




Increased Engagement: Digital signage takes engagement to a new level by captivating passersby with dynamic and visually stunning content. From captivating videos and animations to interactive elements, it's a proven strategy for driving sales and elevating the overall retail experience. This is even more important in an era where many folks do their shopping exclusively online. Your store needs to give them a reason to leave their home, and compelling signage can help.




Improved Analytics: One of the more overlooked benefits of digital signage for retail stores is that it provides valuable data on customer engagement, such as the number of views and interactions ads are receiving, allowing you to make data-driven decisions about your messaging and promotions. Integration with DEEL Analytics enhances the depth of insights and facilitates informed decision-making. Your store shouldn't be guessing when it comes to its signage. Digital signage ensures you are making decisions based on accurate, reliable data.




Customization: Retail signage customization is a breeze with digital signage. With the ability to schedule displays and set up dynamic, you can effortlessly tailor your messaging to match timed promotions, special events, or specific target audiences. This level of flexibility empowers you to deliver personalized content that resonates with each group, resulting in maximum relevance and impact. Your content should speak to your customers. Digital signage helps you accomplish that.