Convenience Store Signage
DEEL Media specializes in compelling digital signage for convenience stores and gas stations that is designed to drive more sales and improved customer experiences.
Digital Signage That Makes a Difference.
Solutions, Not Just Signage: Our offerings go beyond mere digital signage hardware and software solutions for convenience stores and gas stations. Immerse yourself in the benefits of our extensive range of services, encompassing our cutting-edge content studio, expert consultation on digital merchandising best practices, and top-notch managed services that set the industry standard.
Scalable: When you partner with DEEL Media, deploying your digital signage in 500 stores is as easy as deploying it in one. Our intuitive CARBON CMS makes managing your signage simple.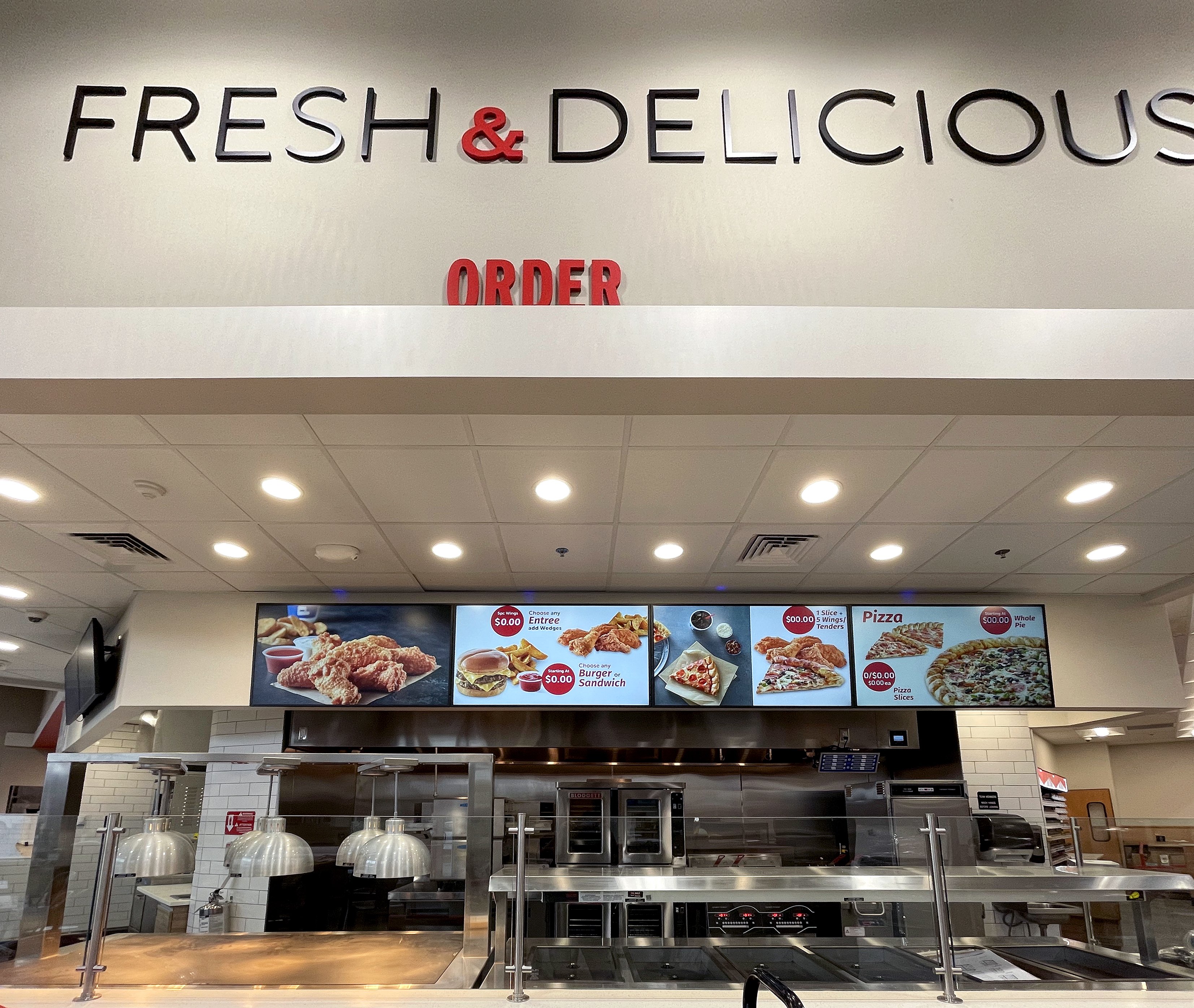 We pioneered the original digital tobacco signage. Our innovative digital tobacco price displays, which effortlessly integrate with your point of sale system to provide real-time pricing data, streamline operations and guarantee centralized compliance across all retail locations.

Your Convenience Store Signage Partner
Best-in-Class Support: We are a support company that just happens to provide convenience store signage solutions. We pride ourselves on our industry-leading support response time of less than 15 minutes. We are truly invested in your success, and are here to help you every step of the way.
Unparalleled Performance: You should be focused on running your business, not frantically researching why your convenience store signage is malfunctioning, or changing outboards. Quality is everything to us at DEEL Media. We make it our mission to ensure you have stable, reliable performance at all times.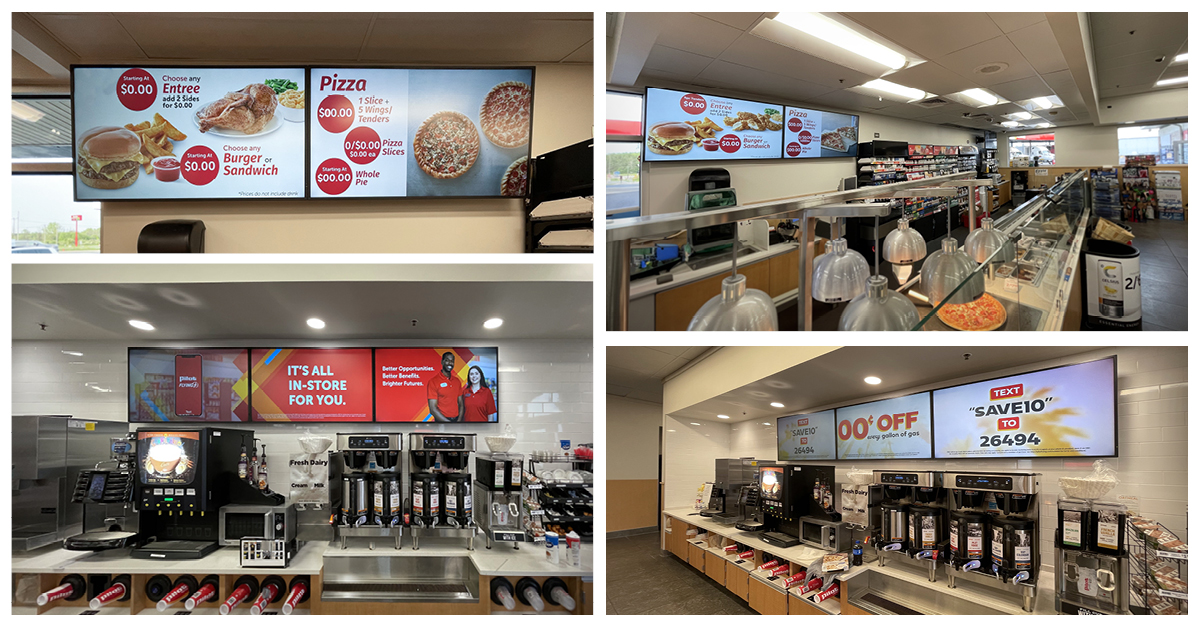 Frequently Asked Questions
There are several reasons why digital signage is so effective at driving more sales for convenience stores. The first is the use of eye-catching visuals. Digital signage allows convenience stores to display vibrant and visually appealing content that attracts customers' attention. Bright colors, dynamic animations, and high-quality graphics can effectively engage customers and entice them to explore further. Some digital signage solutions offer interactive features, such as touch screens or motion sensors. Customers can engage with the content, access additional information, all while providing useful data on their interactions. These experiences enhance customer engagement and create a memorable shopping experience, leading to increased sales.
To implement digital signage in your convenience store or gas station, follow these steps:
Identify your goals: What are you looking to achieve with your convenience store signage? Are you looking to increase sales, improve the customer experience, or both? Making sure you have clear goals makes it easier for you to ultimately reach them. No one wants to get halfway into a project before having to hit the reset button. Need help identifying your goals? DEEL media can work with marketing and category managers to identify promotions to help move the needle.
Select your hardware: Next up is selecting the hardware for your digital signage. You are going to need a display screen, a media player or a computer to run the software, and possibly other accessories like mounts or stands depending on what your particular displays will look like. DEEL Media solution architects will account for everything you need, and that everything is configured for your signage in the most effective manner possible.
Select your software: Next, select the software that will allow you to create and manage your digital signage content. This is perhaps the most important choice you will make in the entire process. When selecting your digital signage software, consider several factors such as ease of use, integrations, and scalability. Your software/CMS will be the motor powering your digital signage. If you choose the wrong software, you may find yourself struggling to scale your signage initiative, or having a hard time managing your locations. DEEL Media's Carbon CMS is an enterprise class solution powering over 26,000 displays worldwide. www.deelmedia.com/digital-signage-content-management
Create your content: Your signage isn't complete without compelling, eye-catching content that will grab attention and help promote your products. Be sure to include a wide range of content, from videos, to images, to interactive content. If your content is not up to par, you certainly aren't taking advantage of the value digital signage can provide drive for your store. https://www.deelmedia.com/digital-signage-content-creation
Install your digital signage: Once you have your hardware, software, and content ready, you are ready to install your digital signage in your desired locations. Make sure these locations are prominent, and are easily seen by customers. DEEL Media can handle or assist in all parts of the planning, logistics, and installation processes.
Test and Monitor: Before you hit go, make sure to test your signage to make sure it is functioning properly. Once it is operational, be sure to monitor performance to see if it is achieving your goals. One of the largest benefits of digital signage is the ability to easily track results and impact of certain displays. As data comes in, make adjustments and conduct experiments. Carbon makes it easy to adjust your content across locations with the push of a button, and simplifies the testing process.
Dynamic Content: Dynamic content is the core benefit of using digital signage for convenience stores. The beauty of digital signage is the ability to update your messaging and promotions in real-time, allowing you to keep your content fresh and engaging, while maintaining a high-degree of flexibility.
Cost-Effective: Say goodbye to the expenses associated with print signage. Although it is more costly up-front, going digital saves your business money in the long-term, while simultaneously boosting sales and productivity.
Improved Engagement: Digital signage better captures the attention of customers with stimulating visual content, including video, animations, and interactive elements that are proven to drive more sales. Humans are visual creatures. Our buying decisions are heavily motivated by what we see in front of us, and great digital signage for convenience stores helps you capitalize on that instinct.
Improved Analytics: Make data-driven decisions to support your messaging and promotional initiatives. Digital signage can provide valuable data on customer engagement, including the number of views and interactions. This ensures your business is making strategically sound decisions instead of firing from the hip and acting on instincts. Why guess when you can know?
Customization:

Tailor your convenience store signage messaging to variable factors like day of the week, time, or holidays. This ensures fresh messaging that is more likely to resonate with your customers.




The DEEL Difference
At DEEL Media, we are not just digital signage experts who understand how to drive more sales and improve customer experience for your convenience store or gas station. We are trusted partners who are truly invested in the success of your business. Our goal is to make your business' signage the best that it can be, whether that's through hardware, our Carbon CMS, or studio-level content production services. We are with you every step of the way in your digital signage journey.